Permanent Free, Unlimited Users
Employee Time Clock Attendance App
Time Clock Free is a free online time clock software, employee time attendance, timesheet, timecard app and work time hours tracking system for businesses of any size, from a single person freelancer to large size of multinational corporations. This application solution benefits company employees, school students, none profit or charity organizations and governments, etc.. Employees clock in from web browser, desktop computer software, smart phone app for daily shifts, project tasks and jobs, schedules, expense, absences, paid time off accrual. Export data for payroll and billing. Restrict employees only to clock in from specific IP, WIFI, device or GPS zone. Web camera and face recognition are supported to avoid buddy punch in. Barcode, QR Code, RFID and NFC scanners, notification and developer API are supported in web browser, Windows PC, Mac OS, iOS, Android. Permanent Free Plan for Unlimited Users is available!
Time Clock Software, Employee Time Attendance Tracking App - App Time Clock is the best free, cheap online employee time clock and project time tracking sofware, app, tool, system. It records attendance time hours, process timer, paid time off, mileage, expense, client project job cost, budget, payroll automation, time cards tracker and employees timesheet calculator, geofence gps, timekeeping, shift schedule plan, planning scheduling, sick leave, vacation pto accrual, overtime, construction field serivce, school teacher student time, hospital clinic doctor time, and other human resources. It support cloud, desktop, iPad, iPhone, Windows, MacOS, Linux, mobile, Android, browser, Barcode, QR code, RFID scanner, photo time stamp, face recognition, facial recognition, PIN, kiosk, group clock, notification, landline phone, sms message, whatsapp, wifi, real time internet device, ip address and offline clock. Time Clock Software, Employee Time Attendance Tracking App - App Time Clock is a reliable, secure cloud and web based time clock system for any size business. It was designed for business owners, bookkeepers and payroll professionals to track employee's time, absence, paid time off accruals, scheduled shifts, jobs and shift note, client budget cost and project time tracking. FREE PLAN is available with unlimited managers and employees supported for all features except for reports. Restrict your employees only punch in from certain networks, certain devices or GPS zones. Web camera supported to avoid pal punch in. And more other features not mentioned here. Sign Up your unlimited users permanent free account now!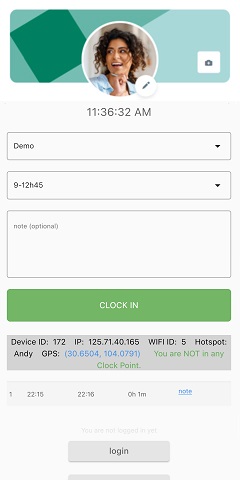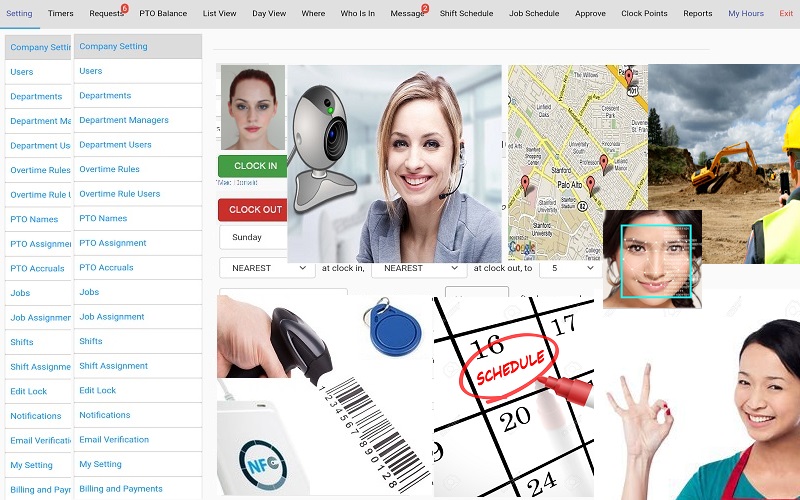 Cloud Based
Many options to clock in
Access from web browser, desktop computer software and mobile phone app.
Sign Up Now (free, simple)
Username Password
Employee enter username and password to clock in. It is available in both public devices and private devices.
Camera Face Recognition
With the built in camera in computer or phone, the app recognize the employee and clock him/her in without entering username or password.
Camera scan QR code or handheld barcode scanner
Employee can either use a web camera or use a handheld QR code scanner to scan barcode, QR code to clock in.
RFID reader, NFC tag scanner
Employee can swipe the RFID badge card or NFC tag to RFID / NFC reader to clock in.
Entering PIN number
Employee can enter their PIN number with or without the virtual keyboard to clock in.
Select listed full name
Employee can also just select him/herself from a list names to clock in.
A group of employees to clock in all at once
The department manager can select a group of employees and clock them in all at once.
Offline mode without the Internet access
Employee can clock in without the Internet access, and then sync data when back to office
Absence request and approval
Employee can apply paid time off absence from both computer and smart phone. And manager can approve or deny this request.
Paid time off accrual and balance
Manager can set up paid time off accruals for employees and view their balances. This is helpful since employee and manager can make decision on requesting and approving.
Overtime rules and calculation
Manager can create overtime rules and apply to different employees according to the cities they are in.
Schedule shifts and jobs for employees
Manager can create shifts and jobs. And assign them to different employees. Manager can also schedule who works on which shift and job in certain days.
Approve worked time records
Manager can setup to allow employees and managers to approve worked time records before payroll processing.
Restricted clock points by device, IP address, WIFI and GPS
Manager can restrict employees only clock in from clock points. The clock point can be defined by device ID, IP address, WIFI ID and GPS geo location.
View employee's clock in location, photo and GPS address
Manager can view and check where the employee clock in from, including their device, IP address, WIFI, GPS address. Manager can view their photo to see if the photo matches the name to avoid buddy punch. Manager can also view the clock in records in Google Map with GPS geo locations.
Email notification for important events
Manager can setup email notification for important events. Such as when employee clock in, be late, reach overtime, request absence and need reminding for clock out.
Project timers to track works on client's project and task time
Project timers can help to track work time on client's projects and tasks. It helps to bill customers more accurately.
Reports in Excel, PDF files and other formats
The system has more than 50 pre-formatted reports. You can run reports to get Excel files, PDF files and other format files. You can also send sample report to us and require for customized reports.
Send and receive messages in the app
You can login to view your received messages. And you can also send messages to all employees inside the app.
Switch OFF or ON for the features you need
You may not need all the features the system gave you. You can switch on those you need and switch off those you don't need.
Time Clock Free powers ambitious entrepreneurs all over the world
" You have excellent email ticket, live chat and phone call customer services even to free plan users like us. Thank you! "
" Face Recognition, QR Code scanning and Group Clock available in web browse, desktop software and smart phone app. Convenient! "
" You combine daily shift time clock with project time tracking. This is what we need. "
" Useful GPS geo fenceing and other options to restrict employees only clock in from office area. "
" Your 50+ pre-formatted reports are also impressive. The report you customized for us is convenient. "